LA Auto Show: 2011 Hyundai Elantra
Posted By Laura Burkholder On December 2, 2010 @ 11:23 pm In 2010,2011 Model Year,Auto Shows,Economy,Hyundai,Los Angeles Auto Show,New Car Review Videos | Comments Disabled
[1]
Hyundai [2] started off auto show season debuts with the redesigned Elantra at the 2010 LA Auto Show.  In addition to great fuel economy and affordable price tag, the compact 2011 Elantra boasts the  'Fluidic Sculpture' design with four-door coupe styling, i.e. the same style you may recognize from the Tucson and Sonata.  The Elantra will go on sale before the new year with a starting price of $14,830.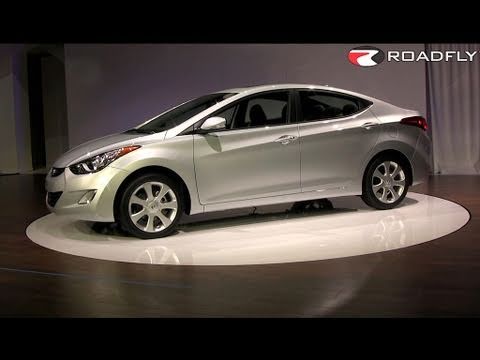 [3]
The range-topping Elantra Limited boasts heated leather seats (front and rear)  and a 172-watt audio system with iPod/USB/Bluetooth connectivity. Other options include passive entry and GPS navigation. Under the hood, the Elantra is powered by a 1.8-liter four-cylinder engine that produces 148 horsepower and 131 lb-ft of torque, mated to standard six-speed manual transmission (a six-speed automatic is optional), giving the car a hybrid-like fuel economy rating of 29 mpg city and 40 mpg highway.
For more auto show coverage and new car reveiws, subscribe to our YouTube Channel:  RoadflyTV [4]
[1]
---
Comments Closed
Article printed from Roadfly.com: Car Reviews & Road Tests: http://www.roadfly.com
URL to article: http://www.roadfly.com/la-auto-show-2011-hyundai-elantra.html
URLs in this post:
[1] Image: http://pinterest.com/pin/create/button/?url=http%3A%2F%2Fwww.roadfly.com%2Fla-auto-show-2011-hyundai-elantra.html&media=&description=LA%20Auto%20Show%3A%20%202011%20Hyundai%20Elantra
[2] Hyundai: http://www.hyundaiusa.com/
[3] Image: http://www.youtube.com/watch?v=bvSYYhn_yqA
[4] RoadflyTV: http://www.youtube.com/user/roadflytv
Click here to print.